Just One Thing…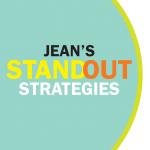 by Motivational Keynote Speaker Jean Gatz
Do you remember that famous line from the movie City Slickers? As they ride along the trail Jack Palance (as Curly) tells Billy Crystal, "The secret to life is just one thing." Crystal asks, "That's great, Curly, but what's the one thing?" He answers, "That's what you've gotta figure out."
Curly's advice is a smart approach to take as we start a new year. If you set an ambitious list of goals on January 1st, you'll probably toss it by February 1st. That's about how long most resolutions last because we get discouraged by our lack of progress. So instead of setting yourself up for frustration and failure, why not take Curly's (and my) advice this year and focus each month on Just One Thing?
You get to decide. Each month I'll give you a quick tip to help you STAND OUT in a positive way.
This month's tip: Re-think your choices when life throws changes your way. When it comes to your future success in your job, your relationships and your life, you have two choices in how you respond to change. You can choose to feel powerless or powerful.
You may be thinking: "Hey, wait a minute! I didn't choose to let the economy tank, have my computer crash, or have to work longer hours just to keep my job. I didn't choose for life to be so unfair." I agree! Life isn't always fair. While you can't choose the changes life sends your way, you CAN choose how to respond. You may not be in charge of change, but you ARE in charge of your attitudes, beliefs and behaviors when it comes to dealing with change.
So … what's holding you back and keeping you from getting where you want to be? What's ONE choice you can make towards positive change in the next few weeks? When you re-think your choices you can move from feeling "powerless" to "powerful."
Of course you do have another option. You can always choose NOT to change – to fall behind the competition inside or outside your company. If you choose to fall behind, you're choosing to be left behind. And catching up will be very hard to do. Remember that the choices you make, and the actions you take as a result of those choices, can make this year STAND OUT for you – in your job, your relationships, and your life!
Wondering what I'm working on this month? Here's my one thing: delivering a better Return on Investment for my clients when I keynote their events. Check out my ROI Guarantee here. And remember – making 2012 YOUR best year EVER starts with changing just one thing. What will that be for you?