Six Steps to Re-Balance Your Life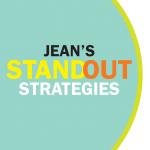 by Motivational Keynote Speaker Jean Gatz
No matter where I'm delivering a keynote across this country I hear the same comments: "I want more time with family and friends… I'm way too busy and way too stressed… I can't seem to get organized…There aren't enough hours in the day… My life is out of balance and I don't know what else to do."
If these sound familiar, you're not alone! As I share in my new book and keynote, "10 Ways to Stand Out from the Crowd: How to Out-Think and Out-Perform the Competition," balanced days rarely happen for any of us. Think about that day at work when everything went wrong, but when you got home things got better. Now think about that day at work that was awesome. And then you got home and things fell apart. Balanced days? No. Normal days? YES! All days have their ups and downs. That's life.
When it comes to life balance, you really don't have a personal life AND a professional life. You have a LIFE. Achieving balance is not about making all things equal. It's about having a sense of well-being in your life at ALL levels. Here are six steps you can take to make that happen.
1. Decide what's really important in your life. What do you need to do to keep your job, your family, your financial security and your health intact? What less important things can wait until later?
2. Once you've gotten your priorities in order, start taking action in the important areas and stop reacting to every unimportant little thing. As we all know, reacting to life can be exhausting.
3. Slow down. People who complain about being tired and stressed have often over-committed and over-extended themselves. It's great to be involved in extra enrichment experiences, but everyone needs some down time now and then.
4. Spend within your means. You'll never feel balanced if you spend more than you have, carry serious credit card debt and buy things you don't need. Wealth is not about what you have, especially if what you have was bought on credit! Wealth is about what you will have for the future, for emergencies, for retirement and to live a life that's safe, healthy and free from financial worry.
5. Make your health a priority. When you're caught up in everyday routines it's easy to forget that in order to do your job, be a good leader, handle change, maintain healthy and loving relationships and live long enough to reap the rewards of your hard work, you have to take care of yourself.
6. Make time for yourself and stop trying to fill every minute with something to do, if that's your tendency. Don't confuse boredom with simple contentment.
Remember, the key to creating a balanced life is intention. Life balance isn't really about what goes on outside you, but what goes on inside you. For more strategies from my keynote on how to STAND OUT FROM THE CROWD  in a positive way, check out my 10 new video clips on Youtube.