Where Is Your Focus?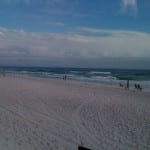 Standing on my hotel balcony I watched as early morning beachcombers searched for seashells. Suddenly I noticed several dolphins about 100 feet from shore, putting on quite a show! Surely one of the shell gatherers would notice them and alert everyone else to this spectacular sight! But no one ever looked up. They plodded along, heads bent in concentration, eyes focused only on the task at hand. Even though no one could hear me above the sound of the waves I started shouting, "Hey! You're missing the dolphins!"
Today's organizations are focused on finding every competitive advantage – including streamlining the ways work gets done. While this approach can have a positive impact on the bottom line, it can have quite a negative impact on the people doing the work. Profits are not achieved through streamlining alone, but also through the impact of the attitudes and behaviors of the people who get the job done. How are the attitudes and behaviors of the people on your team?
If you want your organization to STAND OUT from the competition, take a look around. Observe how management and staff interact with customers and with each other. How are they handling change and dealing with increased pressure to produce? How are their attitudes and behaviors impacting morale and productivity? What choices are they consciously making to contribute to team success?
Remember, we all get to choose how to respond to our daily challenges. While you may not be in charge of everything that happens in your workplace (including the decisions others make without your input) you are in charge of the attitudes and behaviors you bring to your job every day. You can choose to gossip, whine and complain. Or you can choose to come to work with a positive attitude, support each other, work together, stick together and take pride in a job well done.
The ability to STAND OUT from the competition depends both on what you do and how you do it. To improve leadership performance, increase personal accountability and encourage your people to accept and embrace change, you must be aware of negative attitudes and behaviors – whether they're coming from one department or one person. You must focus on long term goals while you focus on short term projects.
It's so easy to get caught up in daily workplace ritual and routine that you fail to see problems or make time to celebrate progress. How are your leaders, colleagues and co-workers doing? Where are you concentrating your attention, time and effort? Are you so focused on gathering seashells that you're missing the dolphins?