Making the Right Call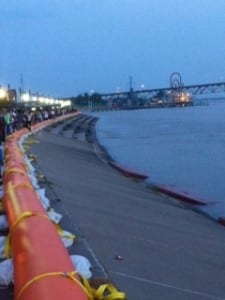 by Motivational Keynote Speaker Jean Gatz
I snapped this photo the night before officials closed the levee to pedestrians in Baton Rouge as the Mississippi River continued to rise.   I heard the story of a ship captain who was trying to reach the docks to unload his cargo before the river was closed to traffic. According to his calculations he could pass safely under the bridge with 12 inches of clearance to spare.
But instead of proceeding, he turned around. He realized that after the cargo was unloaded, his ship would sit much higher in the water and he wouldn't have the clearance he needed to pass back under the bridge to get home. With no easy choices and a tough decision staring him in the face, he made the right call.
While we all have to make tough decisions to get through life, it's not always easy to make the right choice.  Finding excuses to procrastinate is a lot easier! "This isn't fair! Why do I have to decide now?  If I wait long enough someone else might make the decision for me, or the problem may resolve itself."  Sound familiar?
Depending on the situation, any or all of these could be valid. Some problems do have a way of resolving themselves if we're patient enough to wait and see how things turn out.   When my sister Patty needed one of my kidneys 34 years ago, we didn't have the luxury of waiting. This problem was not going to resolve itself! So we did the best we could with the choices we had, and moved forward. The transplant was a success, even though we didn't have any guarantees.
Over your lifetime you'll make countless important decisions – and most of them won't come with any guarantees.  Maybe you're facing some tough choices – dealing with a difficult employee, starting or ending a relationship, making that long overdue doctor's appointment, starting a business, moving to a new town, going back to school, writing that best seller, contemplating a career change or retiring from the job you have.
While it's easier to procrastinate, it's usually better to do something to move forward instead of remaining stuck in the same place. We all have to make many important decisions alone, but we can also ask for help. While no one can make every decision for you, there are people you respect who can lend an ear, act as a sounding board and offer their wise counsel to help you focus in the right direction.
When faced with your next difficult decision, here are some questions to ask yourself:
Who is stopping me?
What is stopping me?
Who needs to act?
Who needs to get out of the way?
How much longer can I afford to wait until the easy choices come along?
Once you answer these questions honestly the issues – and choices – will become clear. Then you'll know what choice you need to make.  As we all know, sometimes there are NO easy choices. But like that riverboat captain, we must do our best to make the right call.