Pick a Lane to Stand Out from the Crowd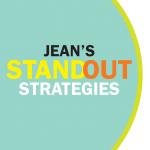 by Motivational Keynote Speaker Jean Gatz
"Change is a huge problem in our company. My head is spinning! How can I keep up when it's happening every day?"
That's just one of many questions asked during my keynotes and workshops based on "10 Ways to Stand Out from the Crowd,"  my new book due out in September. In fact, I've been getting so many questions that I've decided to address them in future blogs, along with strategies I'm sharing with leaders and support staff in organizations around the country as they struggle to deal with change.
Let's face it. Change is not a new problem. It's been around for a long time. The real problem occurs when you're unwilling to accept change and make it work FOR you. In today's highly competitive environment you must be prepared to meet the challenges of a world that demands more, expects more, and pushes back harder than ever before.
Adapting to change means learning how to integrate innovative ideas, technology, products and services into your job. It means helping to create new business partnerships and new ways of relating to customers. And that can't happen if you're feeling afraid, uncomfortable, inadequate, overwhelmed or just plain indifferent.
Think about the last time you were in a hurry to get somewhere and you got stuck behind a slow driver. Unable to pass for several minutes, you felt frustrated, impatient and irritated. If you're resisting change while others are forging ahead, you can bet that your boss, your coworkers and your customers are probably feeling the same way about you.
Refusing to adapt to change is like making a conscious decision to remain stuck in "the slow lane." Others may see you as an obstacle to their progress. While you're poking along, they are trying to figure out how to get around you and pass you by so they can get things done. Is that how you really want to be perceived? It definitely won't enhance your image as a valued member of the team!
Sure, the fable about the tortoise and the hare teaches us that "slow and steady wins the race." Wait… you DO know that's a fable, right? Does it really make sense to jeopardize your career – and possibly your future – based on advice you got in a fairytale?
If you want to succeed in an environment where dramatic change and new business strategies are the norm, you must be ready to out-perform the competition, out-think old ideas, out-shine past performance and out-maneuver anyone who says it can't be done. In future blogs I'll share some ideas on how you can make that happen.
What positive steps are you taking to deal with change in your job?  I welcome your comments on my blog page at www.jeangatz.com, or on LinkedIn or Facebook.