Who Has Time to Communicate Any More?!?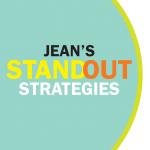 by Motivational Keynote Speaker Jean Gatz
That's the question I was asked at a recent workshop by a group of frustrated healthcare managers. I'm sure you can relate. You're pulled in a dozen different directions in the course of the day. So it's tempting to take communication shortcuts to save time. But those shortcuts can often create problems for you and others, while making your leadership role a lot harder than it has to be. Here are some strategies I shared with those managers. They can work for you too – no matter where you work and what you do.
1.  Remember that no one in your workplace is a mind reader. So you must first identify and clearly define in your own mind what you need, want or expect. Then you must clearly articulate those needs, wants and expectations to others. In an effort to save time, some leaders convince themselves that others know what's expected without giving them adequate explanation or instruction. This line of thinking often results in a waste of time, effort and money, along with confusion and disappointing outcomes.
2.  You must do more than tell your staff what to do. Help them understand how they fit into the big picture to positively impact the bottom line. While you must decide what is appropriate information to share – and when, it's critically important to keep them in the information loop. The more they know, the better job they can do for you.
3.  Effective communicators make sure others understand what needs to happen next by asking both closed and open-ended questions to confirm that understanding. Closed questions are answered with a "yes" or a "no." Open ended questions help clarify the "who, what, when, where, and how" of a conversation. They confirm what will be done, and by whom, after that conversation takes place.
4.  If you're taking time to ask the right questions, you must also take time to listen actively. Utilize good eye contact, avoid distractions and stay focused. Multi-tasking while someone else is speaking can be perceived as insulting, demeaning and rude.  Active listening lets others know their questions, comments and suggestions are important to you.
5.  Analyze feedback to make necessary changes in your style. If one person is confused by your communication, you may need to try a different approach with that individual. If several people raise the same questions or concerns, it's time to rethink your method. To avoid this problem, plan in advance how you will deliver your message. Then jot down the questions you think people might ask. If you come up with only one or two, you're on the right track. But if you find yourself staring at a long list, you can rethink and rework how to convey your ideas more effectively. That can be a big time saver.
Successful communication is an ongoing challenge for all of us. In today's fast-paced workplace, communicating effectively with colleagues, coworkers and customers is an absolute necessity. Taking time to plan your communication in advance will save time in the long run. And we can all certainly use more of that!  This short video clip has more ideas you can use.