by Motivational Keynote Speaker Jean Gatz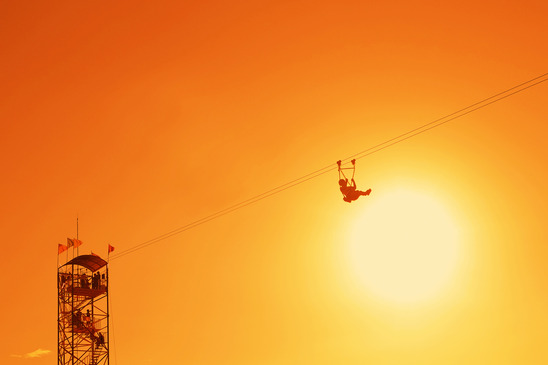 Last week I compared surviving change in today's workplace to my first ziplining experience. If you missed Part 1, you can find it on my blog at www.jeangatz.com. So… picking up where we left off, here are more strategies you can use to survive change.
Watch your attitude. Flying high above the treetops, suspended by only a thin wire, I felt like I was literally "hanging on by a thread." Maybe you can relate. When we're under stress we often revert to the behavior that's most comfortable for us to get the job done. Without realizing it, we may create stress for coworkers and customers. If you complain because you work with a lot of difficult people, remember that some of them don't always start out being difficult. They may become difficult after interacting with you when you're having a bad day.
Today's economic times have created lots of "bad days" for many companies, their leaders and support staff. To handle stress it helps to maintain a positive attitude, make sure you're in healthy relationships at work and at home, and keep your life in balance.
Be a strong team player. There were six of us on our ziplining team that day. We all had to watch out for each other and depend on each other to stay safe and get the most from our experience. At the end of the morning we celebrated together as a team because we had learned new skills while supporting each other through a very new and different process. What new and different processes are YOU experiencing these days? Are you a team player others can count on for encouragement and support? Or are you isolating yourself so change won't find you?
Take time to enjoy the good stuff. As I gained more confidence and took time to look around, I was astounded at the breathtaking views below. Green valleys, rushing rivers and snow-capped hills would have passed me by if I hadn't taken a moment to look for and appreciate the positive aspects – the good stuff – of this experience. What's the good stuff happening in your department, your company, and your personal life right now? Take time to appreciate it – wherever and whenever you can find it.
Take pride in a job well done. Once we were safely on the ground (Oh, happy day!) our leader praised us and reminded us that we should be proud of what we had accomplished. Most of us want to be involved in work that is meaningful and worthwhile. It makes the challenges a bit easier to bear. Are you proud of what you've accomplished? Do you believe that your attitudes and behaviors, along with your skills and abilities, are making a positive contribution to your team? Are they proud of you?
Without a doubt, there is value in any job done with pride, commitment to quality service, honesty, dependability, integrity and the ability to treat customers and coworkers with dignity and respect. Our economy will improve. Things will turn around. Until then, how are you delivering value? What can you do to STAND OUT from the crowd in a positive way?
Exciting news! My new book, 10 Ways to STAND OUT from the Crowd, has been named a finalist for ForeWord magazine's 2010 Book of the Year! To celebrate, I'm offering my loyal followers a GIFT! Use this coupon code, STANDOUT20, to order your autographed copy on my website, www.jeangatz.com and save 20%!